We're known for our reliability and guaranteed workmanship on all repairs. When you need emergency plumbing services, don't hesitate to call Dayton Plumbing Services. We're always ready to help!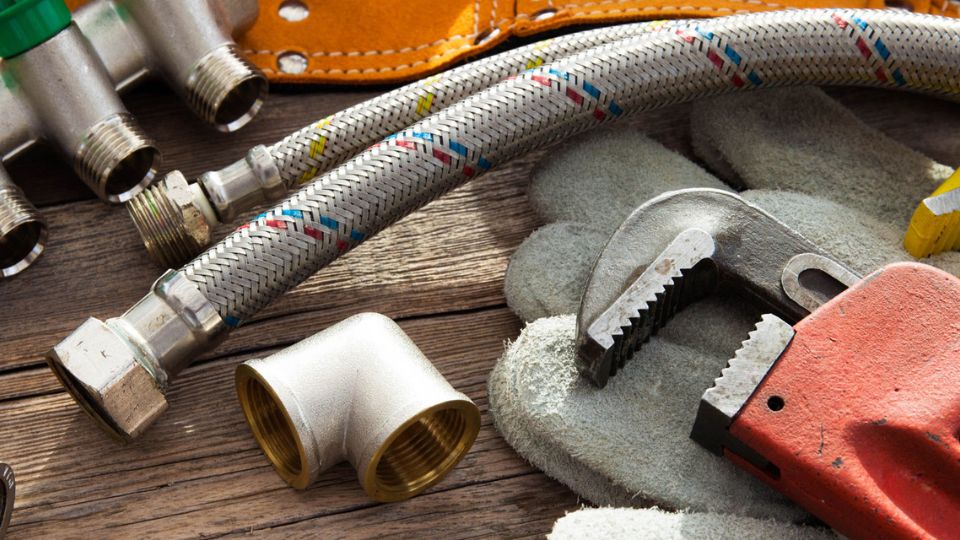 Your plumbing is one of those systems in your home that when it's working, it's given no second thought, we turn on taps, take a shower, wash our vehicles, and yet when an issue strikes, the necessity of this system comes to full awareness, and knowing that you need the assistance of a professional sink in. In the Dayton, Ohio area, when you find yourself with disrepair in your plumbing system, then the experts at Dayton Plumbing Services are the first, and right call to make to get repairs.
Leaks
Whether dealing with a dripping faucet that keeps you up at night or noticing a small damp patch in your basement that never seems to go away, issues with leaks are ones that should be fixed quickly and professionally. When your pipes are off and idling, all water should be staying contained within, and when you find that it's making its escape regardless, then it's time to find a solution. At Dayton Plumbing Services we bring you the experienced hand you need to deal with leaks quickly and effectively and keep your water within your pipes where it belongs.
Cracks
Dealing with a cracked pipe on the other hand is something that calls for a little more urgency in finding repairs, these deformations of your pipes are usually the signs of worse things to come and to avoid having a pipe burst completely, getting the right professional treatment is important. At Dayton Plumbing Services we bring you the services you need to ensure that the reasoning behind a cracked pipe is located, the issue treated, and the pipe replaced to give you back the waterworks that you can depend on, and not have to worry about flooding your home any time soon.
Replacement Parts
Though there can be many reasons behind requiring repairs, and often they can be fixed with the right know-how and detective work, at times you may have no other option than to have a section of pipe removed and replaced, such as the above-listed cracks in the pipe work. When you need a replacement part in your Dayton plumbing, then the experienced professionals at Dayton Plumbing Services are just the people you need on your side. We bring you highly specialized services that are all about bringing you back the effective plumbing in your home.
Emergency Plumbing Repairs Dayton OH Residents Rely On
When an emergency strikes, you need to be sure that you can get ahold of the right professionals fast, not only is having a flood in your home something we all like to avoid, but water damage within your home quickly becomes a downward spiral of treatment and expense. Dayton Plumbing Services brings you the services you need around the clock to ensure that you have the means to the right, fast and effective repairs for your plumbing emergency, and to stem the tide of damages to your home. We even have a water tank installation service for the locals in the Dayton area.
Dayton Plumbing Service Areas
Dayton Plumbing Services provide a complete range of services across the entire Dayton, Ohio region, including the suburbs below. If you are outside the Dayton area we recommend contacting Best Plumbers Club to find a local plumber near you.
Kettering
Beavercreek
Huber Heights
Fairborn
Xenia
Troy
Riverside
Trotwood
Centerville
Piqua
Miamisburg
Springboro
Vandalia
Englewood
Clayton
West Carrollton
Tipp City
Contact A Top Rated Plumber Dayton Ohio For More Info
When you need professional plumbing services, it shouldn't be a hassle to get on the phone with the right people, this is why we bring you a clear and accessible method of contact that is always available to you. No matter the Dayton plumber services you're calling in for you can rely on our friendly and knowledgeable professionals to be there to provide you with the information you need regarding services, or to direct the right experts to your home in the event of regular and emergency repairs. When you choose to call our Dayton OH plumbers offices and speak with a local Dayton Ohio plumbing consultant you can rely on us to treat that call with value and respect.
info@daytonplumbingservices.com